Various Sporting Events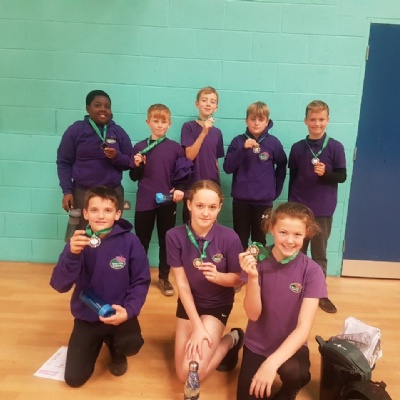 Multi-Sports Day
On Thursday 23rd September, 30 children from Y2 were given the opportunity to take part in the inter school's Multi-Sports day held at Eastbourne Sports Centre. Whilst there, the children took part in a range of fun activities designed to improve their motivation for movement. What a fab day they all had and we are super proud of their enthusiasm on the day – well done Y2!!
Tag Rugby
On Tuesday 28th September, 3 teams were selected from Y5 & Y6 to compete in the annual inter-school's Tag Rugby tournament. All 3 teams displayed a remarkable level of skill and competed to the highest standard. As well as this, the children competing worked extremely well within their teams; they supported each other under some very soggy conditions outside and kept each other's morale high throughout the afternoon.
Many thanks to all for their hard work and determination and a special shout out to Team 1 who made it through to the final!
Cross Country and Fun Run
On 30th September, children from Key stage 2 were selected to take part in the Darlington inter-schools Cross Country race and Fun Run. What a fantastic afternoon of running fun they all had especially as the clouds descended and the torrential rain fell. The muddy smiles that greeted us on their return to school was all we needed to know that they'd done themselves and staff proud. A special well done to Maizie Wrangham and Oliver Chambers for reaching the final and huge well done to all involved.
Judo Taster Sessions
On 15th and 20th October, Judo Dan made time in his hectic schedule to visit our children and offer taster sessions throughout the 2 days. The children thoroughly enjoyed his colourful, energetic and hilarious approach to Judo and we hope that some of them are inspired to take up the sport outside of school – please see the school office if you haven't received details of his classes and are interested in joining.
Y3 Tag Rugby Festival
On Monday 18th October, children from Y3 travelled to Eastbourne Sports Complex to take part in a carousel of skills and games based around Tag Rugby. The children had a fantastic day and gained a wealth of knowledge and experience – well done to all those involved.
Inclusion Festival
On 3rd November, children from Key Stage 2 were invited to attend a full day of activities designed to engage them in a fun filled day of sporting fun at the Dolphin Centre. What a
fantastic attitude they had on the day – really entering into the sporting spirit!
Play Leader Training
Children in Y6 were given the task of applying in writing to become a Play Leader for our school. On 5th December, 12 children were selected based on their responses and positive attitude in lessons. These children then attended training from our School Games Organiser who led workshops on engaging younger children in physical activity and advice on how to support them on their sporting journey. Our Play Leaders not only play an active role attending events, festivals but run Personal Challenges and activities at lunchtime.
Basketball Plate
On Tuesday 9th November, a team of Y6 basketball players represented our school at the annual inter school's tournament held at Longfield School. The children completely blew us away with their skill level and determination on the day and managed to scoop a silver medal for their endeavours – well done Y6!!
C4L Celebration Event
On Tuesday 7th December, children from Y4 attended this sporting celebration event where they took part in a range of fun, multi-sporting activities. Our play leaders accompanied them, using their leadership skills to help to run the different activities.
Alex Dewar Inspiration Day
On Tuesday 7th December, children and staff were lucky to be in the company of Alex Dewar. Alex was an incredible inspiration to us all throughout the day; the children were in awe of his experiences and how he has been able to overcome the challenges in his life. The day involved a multitude of activities all centred around well-being and being the best possible version of ourselves. It is fair to say that we will remember this day for a very long time. Huge thanks goes to Alex for giving up his time to visit our school and to the children for showing such respect on the day.
Santa Dash
On Friday 10th December, as part of the Darlington School Games calendar, all children from Nursery to Y6 were dressed up in their Christmas sparkle to take part in our annual Santa Dash. All children bopped and jogged along to Christmas tunes and then enjoyed juice and biscuits in their classrooms afterwards. Well done to everyone including staff for entering into the sporting festive fun!
Robin Wood
Well it's fair to say that we have all missed our visits to Robin Wood over the Covid years so were over the moon to be invited back. We had the largest ever recorded number of children attend this year, all pushing themselves out of their comfort zones in so many different ways. From being away from home for the first time, to facing their fears whatever they might have been. It was a pleasure to see the children become independent young people, taking responsibility for not only their belongings but also their attitude towards trying new things. We couldn't be prouder of them all for their effort! Also, a huge thank you to the staff accompanying for giving up their own time to be there – it is very much appreciated.