Great North Air Ambulance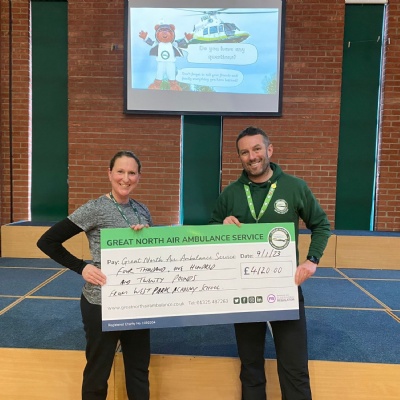 On Friday 6th January 2023 there was a school assembly with Great North Air Ambulance Service -GNAAS. Mrs Black presented a cheque on behalf of the staff that took park in the Yorkshire Three Peaks Challenge in June 2022, the amount was for £4120.00. Mascot Percy was in attendance which the children enjoyed.
Please see below the thank you from GNAAS:
Good Morning Caroline,
I just wanted to say a massive thank you once again for yesterday and all your support which will go a long way to help save lives here at GNAAS.
What a first solo school talk it was yesterday and please thank the two pupils who helped me from the back on the tech!
I must say though that wow what a Mascot Percy was, the best I have seen yet in my time at the charity and even a 'Floss' to hear the children cheering 'Percy Percy Percy' was amazing!
We do hope that from the school talks we can from an early age get the buy in and support with the children and schools and what you all achieved on the three peaks was incredible and the amount raised.
If I can ever help in any way in the future please let me know.
Have a great day and please pass on my sincere thanks to all the teachers and pupils alike
Warm Regards
Ben Hunt