Opal Newsletter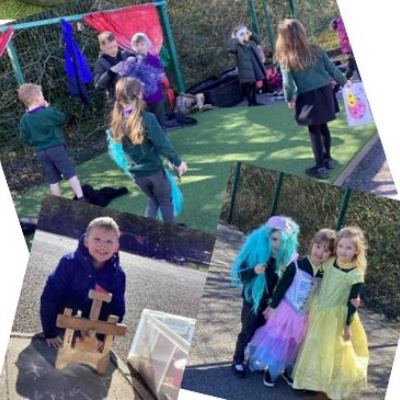 We have survived another winter outdoors!
The weather always tests our play spaces and brings new challenges. Unfortunately we lost our shed during some strong winds and had to get rid of a lot of our loose parts and resources as a result of this. However, most of the children have come to school prepared for the weather and enjoyed their time outside no matter what. We are now looking forward to the sunshine and a little less mud!
How have our outdoor spaces improved over the last year?
Our wheel area has grown on the playground and is enjoyed by many.
We have a stage on the playground to encourage imaginative play. Fancy dress costumes and props will come out as the dry weather continues.
There is now a craft area and a construction area on the playground.
On the field there is now a small world tyre area.
We have planters…watch this space.
The children enjoy being rewarded 'The Golden Welly' and earning extra playtime.
What we need
In order to sustain and improve our fantastic play experiences, we need to replenish resources regularly.
We are currently asking for donations of:
small toy cars, diggers and other vehicles
small figures
Loose parts (e.g. tyres, pallets, crates den building materials, old suitcases, pushchairs etc)
If you have any, please bring to the office.
Thank you for your support.
Miss Pattison 😊