School Meals
We encourage healthy eating, and want lunchtime to provide a nourishing break within the school day.
Children can choose to:
Enjoy School Meals
Every child in Reception, Year 1 and Year 2 is entitled to a free school lunch. If you have any queries please do not hesiate to contact the school office.
The present cost of a meal is £2.00. Parents are asked to pay for school meals through ParentPay. Please ask at the office for further details of ParentPay, and see below for payment expectation.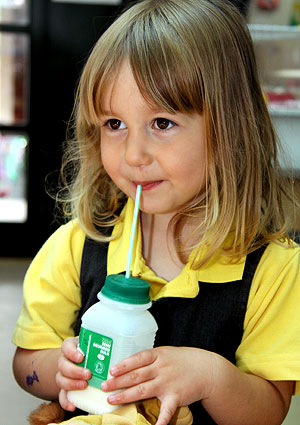 We offer the children a two choice healthy menu which will run on a three week cycle. The children will be able to choose each day the meal they prefer for example: Lasagne and Garlic Bread, Roast Beef and Yorkshire Pudding with Seasonal Potatoes and Broccoli, Iced Sponge and Custard, Chocolate Fudge Cake with Ice cream, Fresh Fruit and Yoghurts. There will also be a vegetarian choice available each day. Please see below the 3 week cycle lunchtime menu. A salad bar and fruit is available on a daily basis.
Bring a Packed Lunch
We encourage everyone to enjoy the lunch break. Those enjoying school meals and packed lunches dine in the school hall and are supervised by our friendly assistants.
Having decided whether to opt for school meals or packed lunches please give us 2 weeks notice if you wish to move from one to the other.
Breakfast in School
We operate a Breakfast Club daily from 8:00 - 8:45 am. There is a choice of cereal, toast, fruit juice and milk for a small charge. Breakfast Club costs £2.25 per child, per day between 8:00 am to 8:30 am. Breakfast Club costs £1.25 per child,per day after 8:30 am to 8.45 am.
Please ensure your child does not bring sweets of any description into school.
Please let us know of any foods which your child may need to avoid due to allergy, food intolerance or personal choice by completing a Data Collection Sheet which is available from the School Office or can be completed on our website (see Forms).
All children in Reception to Year 4 must be signed in by an adult.
Free School Meals
You are entitled to free school meals if you receive any of the following:
Income Support
Income based jobseekers allowance
Child Tax Credit, with an income of less than £16,190 and NOT Working Tax Credit.
If you are still entitled to free school meals please complete the Pupil Premium Entitlement Check form below, including all your children. The school will forward this form to the schools attended by your other children.